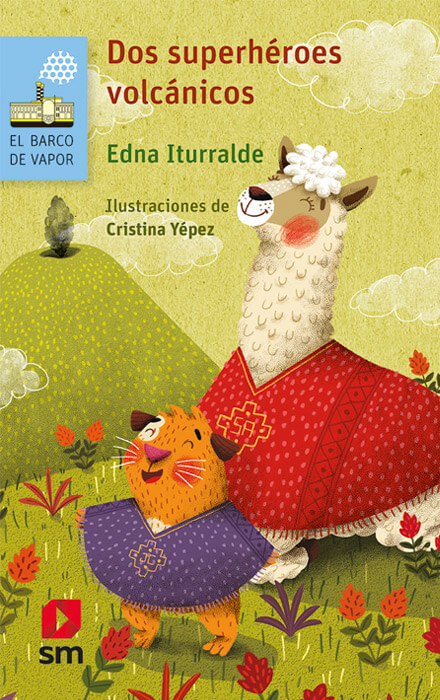 TWO VOLCANIC SUPERHEROES
Editorial SM
Mama Juliana, a healer, receives as a gift a white alpaca and a colored guineapig. Nothing would have happened unless it was the unexpected intervention of Pachamama. What happens when an alpaca and a guineapig get superpowers that allow them to face the eruption of the volcano? That's how an adventure begins that becomes dangerous and very funny!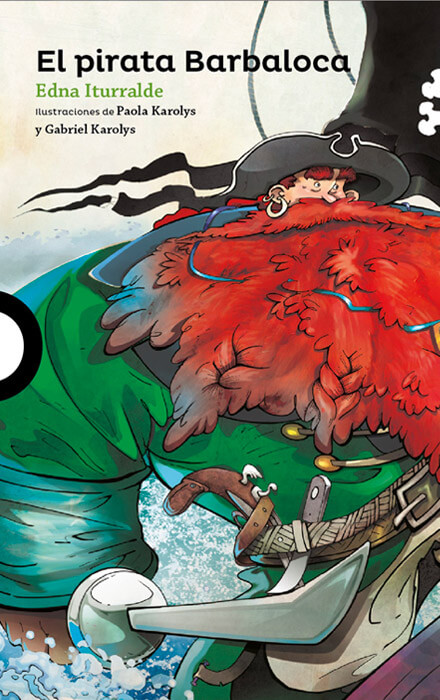 THE PIRATE CRAZY BEARD
Editorial Santillana
Crazy Beard looked like and was supposed to be a fierce pirate. Appearances, however, can deceive. Crazy Beard had a soft heart! The fiercest pirate to sail the seas turns out to be able to love unconditionally and also to gently rock a baby.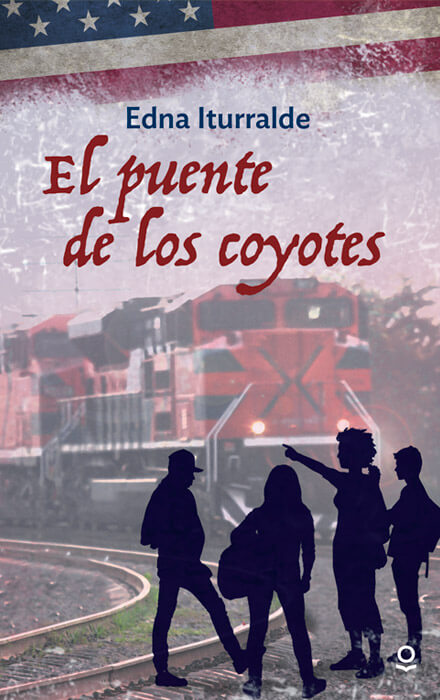 THE BRIDGE OF THE COYOTES
Editorial Santillana
Francisco and Roberto must flee the Mara gang, leaving behind their mother in El Salvador. At the same time, young Hilaria, helped by Nata, manages to escape from the man who pretended to love her in order to abduct and sell her. When the three of them meet they decided to travel together through Mexico to the United States on the dangerous Train of Death. Although they encounter know fear, anger, fatigues and sadness, they also experience the birth of love and hopes for a better life.
THE LITTLE BUN
Gírándula/IBBY
The value of a strong national identity becomes clear through the story of a small traveler who looks for happiness everywhere only to discover that everything he wishes for exists in his own little world.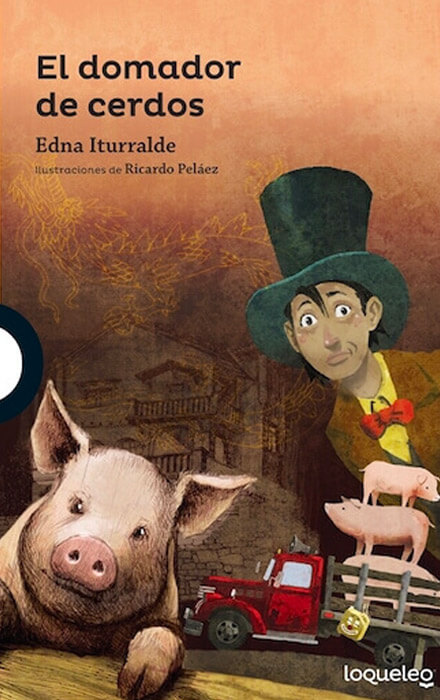 THE PIG TAMER
Editorial Santillana
Frido, an eleven-year-old boy, and his grandfather, a professional clown, travel an uncertain route in an old van called Red Lightning. To earn money, Frido does his famous circus act with his three pigs: Virginia Ham, Rico Bacon and Adela Mortadela, while two other characters join them and help to explain a mystery.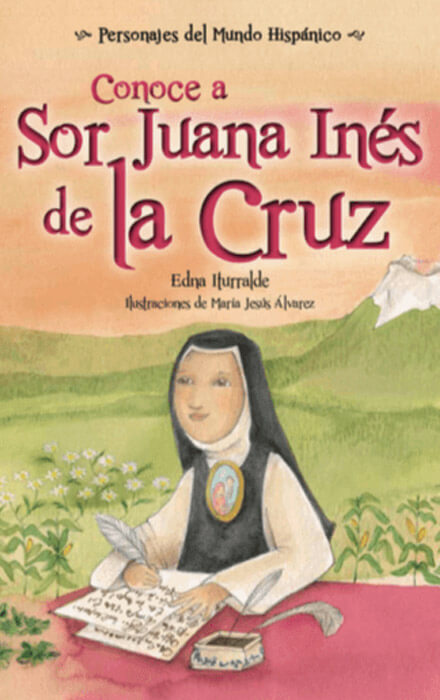 MEET SISTER JUANA INÉS DE LA CRUZ
Editorial Santillana
Since she was a child, the Mexican Juana Inés de la Cruz read widely and studied hard, in an age and culture that prohibited female education. She wrote and published books that are still read today, centuries later, and is one of the most important writers in the Spanish language of all times.
ALLIGATOR DOES NOT EAT ANOTHER ALLIGATOR
Girándula/UNICEF
A child's father disappears after betting that he can ride on an alligator, and mystery unites with hope to produce a tropical forest adventure.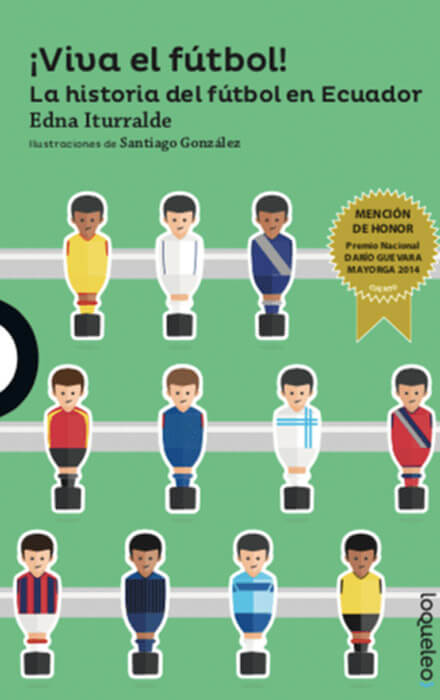 HURRAH FOR SOCCER!
Editorial Santillana
A collection of gracefully and skillfully written short stories about the history, traditions and contributions of soccer in Ecuador: how it started; which were the first teams and the reasons for their names; why this game has become so popular; and how it has strengthened Ecuador's national identify.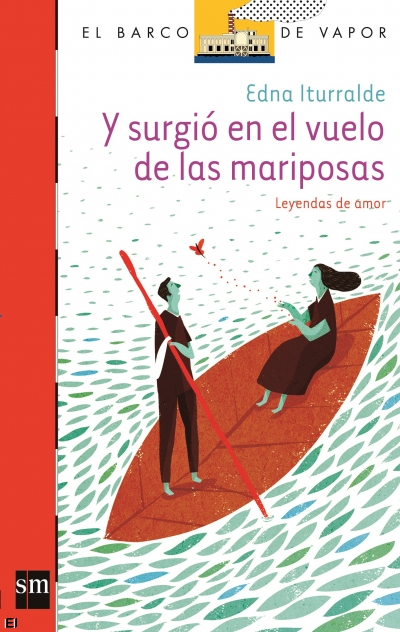 …AND IT EMERGED FROM THE FLIGHT OF THE BUTTERFLIES, LEGENDS OF LOVE
Editorial SM
Characters as different as an Irish leprechaun and the wind of the Guajira peninsula recount these love legends, which encompass the range of the feeling of being in love, whether it be love-at-first-sigh, supernatural, fortunate, difficult, forbidden or punished.
GREEN WAS MY FOREST

Green was my forest

Mandel-Vilar Press In these thirteen delightful and magical stories, the young readers are taken into the dense forests of the Ecuadorean Amazonia to encounter six surviving native tribes. Each story is told from a child's perspective, enabling readers to identify with, and feel empathy for the fictional characters.

DRAKKO PLANET

Drakko Planet: The Twelfe of Fire (Book #1)

In the Kingdom of Kru-Urk, inhabited by mutant dragons, the magicians change the sentinels of the Guardians of the Pearl of Wisdom –a charm that protects Drakko Planet under the principles of Honor, Loyalty, Temperance and Nobleness- a positions that all the young dragons wish to have. The Twelve of Fire, in spite of being in a school for dragons with attention deficit, are the chosen ones because of the hidden powers they possess. That night the planet is attacked by mysterious beings that come from outer space.

DRAKKO PLANET

Drakko Planet: Jaune in Kru-urk (Book #2)

The Twelve of Fire wake up inside a cave in Tardon, the Kingdom of the Dwarfs. They find out that enemies have attacked the planet. Jaune, the Dragon of Ice is the one chosen by Gintaras, the Dragon that Revelations, to go on their first mission. Jaune finds out that all the dragons have been petrified and meets the Empress of the Zuberanos and… her daughter.

DRAKKO PLANET

Drakko Planet: Rav and the Elves of the Grasslands (Book #3)

In this adventure it is Rav, the dragon of silk, the chosen one to go ask the Prairie Elves to join the dragons in their fight against the invaders. The elves are prisoners of the ogres and have lost their will to live. Rav tells them the legend of the sacred trees as an example of courage. With this, the elves accept to participate in the battle… when the moment comes.

DRAKKO PLANET

Drakko Planet: Kohaku and the Nomads of the Desert of Kiir (Book #4)

In their fight against evil, the Twelve of Fire need to unite with the rest of the inhabitants of Drakko Planet. This time is Kohaku, the dragon of air, who is sent to the desert of Kiir to look for the Al-belsos. Once there, he faces an enigma when he sees on the water the image of the mythical Princess Rialgo. Why does she look like the daughter of the empress of the zuverans?

DRAKKO PLANET

Drakko Planet: Yantar and the Goblins (Book #5)

The Twelve of Fire continue hiding in a cave under the kingdom of the dwarfs protecting the urn with the Pearl of Wisdom. From there they go on different missions finding the way to expel the invaders. Yantar, the dragon of nature, is sent to talk to the goblins, something she finds terrifying for no reason. Never the less, she discovers that the goblins know her since she was little and she achieves their alliance after she defeats the black magic of Mosú the soccer.

DRAKKO PLANET

Drakko Planet: Gimber and the Atlantis (Book #6)

Gimber, the dragon of water, is sent in a mission to The New Atlantis to look for help against the zuberans that have invaded Drakko Planet. Guided by a dolphin she arrives in the fifth dimension. Just then, a basilisk has trapped a group of Atlantis. The fight could be mortal since no one has ever been able to defeat such a monster.

DRAKKO PLANET

Drakko Plannet: Gless and Glessum in the Kingdom of the Dwarfs (Book #7)

Gintaras, the dragon of prophecy, must choose the dragon for the next mission. But she sees two dragons in her mind: the twins Gelssum and Gless. Their mission is to go up to Tardon, the kingdom of the dwarfs were they are hiding inside a cave. Once there, they participate in a gallant tournament and rescue the true queen of the dwarfs.

DRAKKO PLANET

Drakko Planet: Karabe with the Giants (Book #8)

Karabe, the dragon of sound, is sent to the Kingdom of the Giants. During his adventure he lives funny but also dangerous events when the giants are attacked by the invaders and think they king has been killed. Karabe discovers that his voice can be as sweet as the tinkling of a crystal bell or so strong to cause an earthquake.

DRAKKO PLANET

Drakko Planet: Anbar and the Fairies (Book #9)

The Twelve of Fire continue to hide in the cave where they have been guarding the Pearl of Wisdom. Anbar, the Dragon of Dance, goes out to find the fairies, which have almost disappeared from Drakko Planet. After successfully passing several trials and guessing the answers to three riddles, she convinces the fairies to join the twelve in fighting the Zuberans.

DRAKKO PLANET

Drakko Planet: Ambru and the King of the Trolls (Book #10)

Ambru the Dragon of the Wind is the hero of this adventure. His mission is to look for the King of the Trolls to get his support. He finds out that because of the invaders trickery, a group of trolls has been sent to the kingdom of Kruk-Urk to destroy the petrified figures of the dragons. Ambru succeeds in stopping them and the trolls promise to join with the Twelve of Fire in their fight against evil.

DRAKKO PLANET

Drakko Planet: Elektrum with the Zuberans (Book#11)

After discovering that the "Pearl of Wisdom" is not in the urn they have been guarding, the Twelve of Fire recount their different adventures. They remember the story of a mythical princess, Rialgo, who will save their planet. Elektrum, the dragon of fire, goes on the mission of discovering who the invaders are, and why they are seeking the "blood of the planet".

DRAKKO PLANET

Drakko Planet: The Last Battle (Book#12)

This last adventure pits the superhero dragons and all their allies against the evil Zuberans with their allies and androids All the characters that are on the side of good against evil fight together. In mid battle, the superheroes find out the answer to a great mystery that has to do with their origins. Who really are the Twelve of Fire? Where do the Zuberans come from? And…who is the mythical princess Riaglo? Here ends the fantastic saga.

Y SURGIÓ EL VUELO DE LAS MARIPOSAS

…And it Sprang in the Butterflies'

Flight There is no more disconcerting and deeper experience than love. That is precisely what these legends are about. They are told in such different voices as from an Irish leprechaun or the Wind in the Guajira Peninsula; sometimes with the painful tone of a sad witness or a gossipy neighbor. These voices lead the way through a gallery of love at first sight, supernatural, fortunate or tragic, forbidden and punished, that represent the different possibilities of living this wonderful feeling. Editorial SM Barco de Vapor 2014.

¡VIVA EL FÚTBOL!

¡Hooray for Soccer!

This book has a series of short and chronological stories about the history of soccer in Ecuador. All kind of curious events are told with wit and skill. How did the first soccer ball arrived to the country? Who were the pioneer teams and the reason of their names? The passion that this sport has awakened all through the years and it contribution to strengthen Ecuador´s national identity. Editorial Santillana 2014

LA CASA QUE EL BOSQUE SE TRAGÓ

The House that the Forest Swallowed

There is a house in the middle of the forest that no human eye can see. It is inhabited by fantastic and extravagant beings: a romantic Woolf man, a vampire that faints when looking at blood and a witch who continuously looses her head under the furniture. Derek, an inquisitive boy together with and Alisa, a little ghost, have great and scary adventures to free the world of the threat of zombies. This book proves that friendship is above death. Editorial Norma 2013

The Brothers that Harvested Fairy Tales

The Brothers that Harvested Fairy Tales

The blind twins, Luis and Jose, enter the world of the Grimm's brothers fairy tales and meet such well-known personalities as Snow White, Rapunzel, Cinderella, the Valiant Tailor and Hansel and Gretel. They race against time, measured by an hour-glass, to discover why the fairy tales portray step-mothers as evil. Editorial Santillana 2013

Birds Have No Frontiers

Birds Have No Frontiers

In this magical book, Edna Iturralde, based on her own research and using her own imagination, recounts forty oral myths and legends from all the Latin American countries, some of them as famous as the Crying Woman of Mexico, and others less renowned, but equally moving – and at times even terrifying. Editorial Santillana 2013

Maria Mangrove

Maria Mangrove

In this novel of magic realism, Maria, a fantastic character, keeps a secret even from the boy who makes friends with her although not knowing where she comes from or who she is. Their adventures convey, with some humor, much mystery and a touch of romance, the life of the people who live in Ecuador's mangroves – and their anguish because the mangroves may be disappearing forever. Editorial Norma 2013

The Girls of the Rain

The Girls of the Rain

In this police novel, two beautiful, young girls of the same age disappear in Juarez, Mexico without leaving a trace. Krakus, a mysterious figure, anxiously looks for Daisy, while her mother searches desperately for Peggy. They discover that in Juarez over the last few years many girls and young women have been assassinated, caught up in the ferocious battles between powerful drug cartels while authorizes remain silent or even complicit. During their dangerous search for the girls, Krakus and the mother encounter macabre people, but they also discover the valor of solidarity and hope. Editorial Santillana 2012

Manuela's Dream

Manuela's Dream

This picture book tells easily and humorously the life of Manuela Saenz (Simon Bolivar loyal friend) called "The Liberator's of the Liberator"; her infancy and youth to her old age, including the honors she won through her valor and the injustices she suffered without ever losing hope. Editorial Mantra 2012

The Day of Yesterday

The Day of Yesterday

Fourteen-year old Daniela's life nearly stops in the past when through no fault of her own she contracts HIV AIDS. is dismissed from her school and is sent to a health center. But her courage in adapting to her new life, surviving dangerous adventures and making new friends bring her to realize that she can leave her past and live happily in the the present.

WPR Books USA 2012

The Islands where the Moon is born

The Islands where the Moon is born

Twin sisters, Mary and Caro, have an exiting adventure in the Galapagos Islands when they confront a witch and her mysterious hordes of goats. The Finch Knights, the Penguin Patrol and Sharp Teeth are some of the characters in this amusing book that explains why these enchanting islands are known as one of our planet's greatest natural wonders.

WPR Books USA 2014

When the Guns Fell Silent

When the Guns Fell Silent

Twelve short stories capture the deep, honest emotions and brave, resourceful reactions of children who face situations of conflict in Afghanistan, Bosnia, Colombia, Liberia, the Basque Countries, Northern Ireland, Israel and Palestine, Chechnya, Rwanda, Sudan, Iraq and Sri Lanka.

WPR Books USA 2012

CONOCE A SIMÓN BOLIVAR

Get to know Simón Bolivar (Conoce a Simón Bolivar)

An enchanting story for young children about Simon Bolivar, told by his horse, White Dove, and his dog, Nevado.

United States.
Alfaguara Infantil Grupo Santillana S.A.

CONOCE A MIGUEL DE CERVANTES

Get to know Miguel de Cervantes (Conoce a Miguel de Cervantes)

An amusing story for young children about the famous writer Miguel de Cervantes Saavedra, told by Don Quixote of La Mancha.

United States
Alfaguara Infantil Grupo Santillana S.A.

SUEÑOS CON SABOR A CHOCOLATE

Dreams with a Touch of Thocolate Flavor (Sueños con sabor a chocolate)

A fairy, worried that people no longer believe in fairies, writes a catalog of the different kinds of fairies and their adventures with the help of a very special librarian.

Quito Ecuador.
Alfaguara Infantil Grupo Santillana S.A.

MICKY RISOTTO Y EL PERRO CHIHUAHUA

Mickey Risotto and the Chihuahua Dog (Mickey Risotto y el perro chihuahua)

A chapter book full of cybernetic adventures. Micky Risotto's Aunt gives him a special present for his birthday: a tiny Chihuahua dog. Mickey feels worried about what his friends might say, so he wants to refuse the present but before he can his magical computer takes him on a trip to the world of the smallest kinds of animals. He gets into a lot of trouble inside a video game where all kinds of crazy things begin to happen.

Quito Ecuador.
Alfaguara Infantil Grupo Santillana S.A.

MARTINA, LAS ESTRELLAS Y UN CACHITO DE LUNA

Martina, the Stars and a Slit of the Moon (Martina, las estrellas y un cachito de luna)

A picture book of great tenderness about the dreams of an Afro-American girl and how they become real through a great secret: her imagination.

Quito, Ecuador.
Editorial Alfaguara Infantil, Grupo Santillana S.A. 2011

LLEVO 3000 AÑOS PINTANDO

I've Been Painting for Three Thousand Years (Llevo pintando tres mil años)

A chapter book about the Ecuadorian master painter Oswaldo Guayasamin. The novel explores the tumultuous but tremendously creative life of a genius painter who suffered severely from racism, who struggled for peace by denouncing war and its horrors in his paintings and murals, and who finally reconciled himself to his combination of indigenous and Spanish ancestry as representing a new culture worthy of admiration and respect.

Quito Ecuador.
Alfaguara Juvenil, Grupo Santillana S.A. 2011

CUENTOS DEL YASUNÍ

Tales of the Yasuni (Cuentos del Yasuní)

Tales about how a protected humid tropical forest of the Amazon and the people who live there find themselves in danger due to an invasion of metallic towers. An old man helps them to escape from the danger with the rhythm of his magic drum.Quito Ecuador.
Alfaguara Infantil, Grupo Santillana S.A. 2010, second edition 2011

SIMÓN ERA SU NOMBRE

Simon Was His Name (Simón era su nombre)

A chapter book about "The Liberator" told by various voices, among them those of his African nurse, Bolivar himself and Manuela Saenz, his great love. The book mixes reality with the magic of African ancestors and portrays the hero of the independence of northern South America from a human viewpoint. Based on the latest historical research about Bolivar, the book interprets his thoughts as his life ends in isolation in the town of Santa Marta in the presence of only his life-long, faithful servant.

Bogotá Colombia.
Alfaguara Juvenil Grupo Santillana S.A. 2010

Quito Ecuador.
Alfaguara Juvenil Grupo Santillana S.A. 2010, second edition 2011

PECAS Y LAS CUCARACHAS

Freckles and the Cockroaches (Pecas y las cucarachas)

Five stories about unforgettable characters: valiant girls, dancing cockroaches, robots that become alive, and circus animals that show valor and friendship.

Quito, Ecuador.
Caja de Letras Grupo Santillana S.A 2009, second edition 2011.

LA LEYENDA DEL ARUPO

The Legend of the Arupo Tree and other Mythical and Magical Stories (La leyenda del arupo y otros historias míticas y mágicas)

These fourteen legends tell not only of the importance of the Earth and of the creation of the beings that inhabit it but also of the magic of love, the only sentiment that is able to give life and of the beauty that enwraps each living being.

Quito Ecuador.
Caja de Letras, Grupo Santillana S.A. 2009

JUNTO AL CIELO

Next to the Sky (Junto al Cielo)

Stories that show Quito as it used to be, a pleasant city in the peaks of the Andes that now remains only in the memories of grandparents. Its traditional characters live humorous incidents in their daily lives and with a touch of nostalgia they reveal the city as if it were a playground, with happiness, naughtiness, and tenderness.

Quito Ecuador.
Grupo Editorial Norma Infantil 2009, second edition 2011

JOHNNY TALLARÍN EN: ¿QUIÉN GRITA DESDE TAN LEJOS?

Who Shouts from So Far? (¿Quién grita desde tan lejos?)

For his eighth birthday, Johnny Tallarin receives a very peculiar present: a strange computer that can not only talk and feel but which can transport people through time. Johnny is returns two hundred years into the past and there lives intense and amusing adventures with the principal protagonists of the first struggles for the independence of Ecuador.

Quito Ecuador.
Editorial Norma Infantil 2009, second edition 2010

IMÁGENES DEL BICENTENARIO

Imagines of the Bicentennial (Imágenes del Bicentenario)

A book of brief and easy to understand descriptions and beautiful illustrations about the events of the struggle for independence of Ecuador in the early 19th century.

Quito Ecuador.
Altea Editorial Alfaguara, Grupo Santillana S.A. 2009

EL PERRO, EL FAROLERO Y UNA HISTORIA DE LIBERTAD

The Dog, the Lamplighter and a Story of Liberty (El perro, el farolero y una historia de libertad)

This is the first chapter-book of the collection "Histories of the Bi-Centennial" and presents a marvelous historical recreation of one of the most heroic periods of Ecuador: the First Shout of Independence on the tenth of August 1809. The adventures of the patriots of that epoch are told by their faithful pets, the members of the Society of Friends of the Conspirators Plan L (L for Liberty). Dogs, cats, mice, rats, vultures and the Principal Condor – the king of the birds – take you into a world that is both true and fantastic.

Quito Ecuador.
Alfaguara Infantil Grupo Santillana S.A. 2008, second edition 2010

EL CABALLO, LA ROSA Y UNA HISTORIA DE REBELIÓN

The Horse, the Rose and a Story of Rebellion (El caballo, la rosa y una historia de rebelión)

This chapter book, the second of the collection "Histories of the Bi-Centennial", tells the adventures of the valiant patriot and leader of Independence Rosa Zarate, a forgotten leader of the fight for independence, and her loyal horse during the events that occurred between the years 1810 and 1813.

Quito Ecuador.
Alfaguara Infantil Grupo Santillana S.A. 2008, second edition 2010, third edition 2011

EL CÓNDOR, EL HÉROE Y UNA HISTORIA DE INDEPENDENCIA

The Condor, the Hero and a Story of Independence (El condor, el héroe y una historia de Independencia)

In this chapter book, the third of the collection of "Histories of the Bi-Centennial", recreates the period after the rebellions of 1812 and the battle of Ibarra. Vicente, the young nephew of a lamplighter fights for his ideals of liberty together with Cantule, his warhorse and his dog Lobo. Narrated by a condor, the symbolic bird of liberty, the novel mixes fantasy and reality and its characters live through the emotional adventures of the freedom of Ecuador, culminating with the battle of Pichincha on May 24, 1822.

Quito Ecuador.
Alfaguara Infantil Grupo Santillana S.A. 2008, second edition 2010, third edition 2011

OLIVIA Y EL UNICORNIO AZUL

Olivia and the Blue Unicorn (Olivia y el unicornio azul)

As this magical chapter book starts, Olivia is being taken by her parents to the orthodontist, much to her disgruntlement. The song The Blue Unicorn is playing on the radio of the car and suddenly a little blue unicorn appears sitting next to her. He carries the girl to a far-away planet called Jubalun, where she experiences strange and delightful adventures.

Quito Ecuador.
Alfaguara Infantil Grupo Santillana S.A. 2008, second edition 2009, third edition 2010, fourth edition 2011

TE ACOMPAÑARÁ EL VIENTO

The Wind will Accompany You (Te acompañará el viento)

An amusing adventure chapter book, with some similitude to Don Quixote, about two boys, a donkey, a horse, a sheep and a parrot and their travels through the high mountains and deep valleys of the Andes, the story draws on the cowboy culture and legends of the Ecuadorian highlands.

Quito Ecuador.
Grupo Editorial Norma Infantil 2008, second edition 2009, third edition 2010, fourth edition 2011

¿DE DONDE VIENEN LOS BEBÉS DE LAS HADAS?

From Where Do Baby Fairies Come? (¿De dónde vienen los bebés de las hadas?)

An enchanting story, tender, sweet and magical that carries us to the marvelous world of the fairies to learn about its babies: those that are born in the flowers, in the sea, in the rainbow, in the drops of dawn, in ice cream stores – especially within chocolate and vanilla ice cream – and the story of Eulali, the fairy godmother of the fireflies, when she becomes a mother.

Quito Ecuador.
Grupo Editorial Norma Infantil 2008, second edition 2010

EL DÍA DE AYER

The Day of Yesterday (El día de ayer)

Four adolescents who have been excluded by society flee a health center for people sick with AIDS, escaping in a boat with the intention of going to the United States to offer themselves for medical experiments that would lead to a cure for this disease. But the boat turns out to be transporting illegal drugs. This powerful novel addresses the problems of immigration and how these outcast children fight to maintain their dignity and hope.

Quito Ecuador.
Alfaguara Juvenil, Grupo Editorial Santillana S.A. 2007, second edition 2008, third edition 2009, fourth edition 2010

The Islands Where the Moon is Born (Las islas donde nace la Luna)

Twin sisters, one of them with special talents, are displaced by war and flee with their family and their small dog to a new country, not knowing that there awaits them an adventure in the famous Galapagos Islands, on of the most fantastic parts of our planet. A witch, pirates, goats and finch knights participate in this magical novel which shows how living things, including humans, must learn to adapt to new situations. This chapter book touches on some life and death issues, while also balancing drama with humor and exciting details of natural history.

Quito Ecuador.
Grupo Editorial Norma Infantil 2007, second edition 2008, third edition 2009, fourth edition 2011. English version 2007

LOS HIJOS DE LA GUACAMAYA

The Children of the Macaw (Los hijos de la guacamaya)

This chapter books tells the history of the Cañar indigenous people in the highlands of Ecuador, relating the legends of the Lake of the Snakes and of the Black Cave of the Chobshi, from 10,000 years ago, and describing the present- day festival of Carnival. Told by Wind, Mother Earth, Monkey, Bat and Puma, each chapter is an adventure that reveals secrets of the mountains, mysteries of the lakes and myths of the Inca imperial city of Tomebamba.

Quito Ecuador.
Alfaguara Juvenil, Grupo Santillana S.A. 2007, second edition 2008, third edition 2009, fourth 2010, fifth edition 2011

UN PAÍS LLAMADO ECUADOR

A Country Called Ecuador (Un país llamado Ecuador)

A collection of stories about the different ethnic groups of Ecuador, which promotes integration between Ecuadorian emigrants to Spain and Spanish children.

Valencia Spain.
ISCOD-País Valenciano, Trabajo Solidario, 2007 (only publication)

CUANDO CALLARON LAS ARMAS

When the Guns Fell Silent (Cuando callaron las armas)

These twelve humane stories about the daily life of children who live in the midst of difficult political conflicts in diverse parts of the world, including Israel and Palestine, Afghanistan, Colombia, Chechnya, Bosnia, Liberia, Sudan, Rwanda, Northern Ireland, Sri Lanka and Spain together form a moving book without precedent in the children's literature of Latin America.

Bogotá Colombia. Printed by Grupo Editorial Norma Infantil (International) Colombia, México, Argentina, Panamá y Venezuela 2007, second and third editions 2008, fourth edition 2009, fifth edition 2010, sixth edition 2011

Quito Ecuador. First Printed by Alfaguara Juvenil, Grupo Santillana S.A. 2006, second edition 2006, third and fourth editions 2007, fourth edition 2008, fifth edition 2009, sixth edition 2010, seventh edition 2011

MITEÉ Y EL CANTAR DE LAS BALLENAS

Miteé and the Song of the Whales (Miteé y el cantar de las ballenas)

An epic chapter book of adventure and mystery, which occurs more than three thousand years ago when Ecuadorians first learned how to make oceanic voyages on balsa rafts to the coasts of Mexico. Carried by the whale Uuam, one of the most important gods of the sea voyagers of the Pacific, the principal character travels through time, permitting readers come to know the characteristics and importance of the ancient cultures of pre-Hispanic America.

Quito Ecuador. Printed by Alfaguara Infantil, Grupo Santillana S.A. 2005, second edition 2006, third edition 2007, fourth edition 2008, fifth edition 2009, six and seventh editions 2010, eighth edition 2011

LÁGRIMAS DE ÁNGELES

Tears of Angels (Lágrimas de ángeles)

A chapter book that movingly and realistically conveys the current problem of emigration in Latin America and its sad effects on girls and boys. A country boy arrives in the city because his father has migrated to another country due to his financial difficulties in providing for his family. The boy must learn to survive on the street in a society that treats street children with indifference while having experiences that are complex and sorrowful although also tinged with humor.

Mexico DF Mexico. Printed by Alfaguara Juvenil, Grupo Santillana S.A 2008, second and third editions 2008, fourth edition 2009, fifth edition 2010, sixth edition 2010, seventh edition 2011

Bogotá Colombia. Printed by Alfaguara Juvenil, Grupo Santillana S.A 2007, second edition 2008, third and fourth editions 2009, fourth, fifth and sixth editions 2010, seventh edition 2011

Quito Ecuador. Printed by Alfaguara Juvenil, Grupo Santillana S.A. 2005, second and third editions 2006, fourth edition 2007, fifth edition 2008, sixth and seventh editions 2008, ninth and tenth editions 2009, eleventh edition 2010, twelfth edition 2011

J.R. MACHETE

J.R. Machete

This chapter book takes place during the time of Ecuador's liberal revolution at the end of the 19th Century. A boy changes his name to J.R. Machete and embarks on a mysterious adventure together with his brave grandmother. They travel through the Ecuadorian coast, galloping across green plains, wading rivers full of giant alligators, and penetrating jungles where the Manchado, the fierce tiger tests people's valor.

Quito Ecuador.
Alfaguara Infantil, Grupo Santillana S.A. 2003, second edition 2004, third edition 2006, fourth edition 2007, fifth edition 2010, sixth edition 2011

LOS GRANDES SE IRÁN Y LOS CHIQUITOS SE QUEDARÁN

The Big Ones Go and the Smalls Ones Stay (Los grandes se irán los pequeños se quedarán)

A picture book that tells an adventure in the Amazon of two indigenous Kichwa boys and how they use their ingenuity and humor to disclose a mean trick.

Quito Ecuador.
Patronato Provincial de Pichincha, 2004 (one edition)

ENTRE CÓNDOR Y LEÓN

Between Condor and Lion (Entre cóndor y león)

This adventure chapter book begins in a secret cave of the conquered Inca Empire, where the treasure and mummy of Atahualpa lie hidden, unfolds on the Atlantic Ocean, and ends with the storming of a tower of a castle in the Kingdom of Castile, as the heroine, the valiant daughter of a Spanish conquistador and an Inca princess, seeks her roots in Spain. The book illuminates with historical facts and imagination the epoch immediately after the Spanish conquest of the American continent and how a mixture of cultures and peoples formed from which contemporary Latin American societies have descended.

Quito Ecuador.
Alfaguara Juvenil, Grupo Santillana S.A. 2004, second edition 2005, third edition 2006, fourth edition 2007, fifth edition 2008, six and seventh editions 2010

EL PIRATA BARBALOCA/EL GRAN SECRETO

Crazybeard the Pirate and The Great Secret (El pirata Barbaloca y El gran secreto)

These are two ingenious and funny stories in honor of fathers and mothers. In The Pirate Crazybeard, a fierce pirate, the most feared and powerful on the Seven Seas, displays a P on his chest: it turns out though that the P stands not for Pirate but for Papa. The story demonstrates that love remains in all human beings. The Great Secret tells about how extra-terrestrials discard plans to invade the Earth when their spy finds out that it is protected by machines that the small humans call Mama.

Quito Ecuador.
Grupo Editorial Norma Infantil 2003, second edition 2004, third and fourth editions 2005, fifth edition 2006, six edition 2007, seventh edition 2008.

EL MISTERIO DE LAS BOLITAS DE COLORES

The Mystery of the Colored Poop (El misterio de las bolitas de colores)

A picture book that tells the travails of a curious rabbit who becomes a detective when he discovers that the colored balls that he finds in his garden are really colored poops and decides to question the animals in a circus that has just set up next to his burrow. This is a book that enchants young readers and their parents alike.

Quito Ecuador.
Grupo Editorial Norma Infantil 2003, second edition 2006, third edition 2007, fourth edition 2008, fifth edition 2009, seventh edition 2010

CAMINANTES DEL SOL

Walkers of the Sun (Caminantes del Sol)

An adventure chapter book based on the expansion of the Inca Empire through the Andes during the period just before the Spanish Conquest of the 15th Century. The novel tells the exciting adventures of Kispi Sisa, an Inca girl, her grandfather and their companions as they travel the Royal Highway from Cuzco to Ecuador. With the power of a magic staff the girl passes from one historical epoch to another and meets various Inca gods, the Spanish conquistadores and the descendents of the Incas who continue to live in present-day Ecuador.

Quito Ecuador.
Alfaguara Infantil, Grupo Santillana S.A. 2002, second edition 2003, third edition 2003, fourth edition 2005, fifth edition 2006, sixth edition 2007, seventh edition 2008, eighth edition 2010, ninth edition 2011

Lima Peru.
Alfaguara Infantil, Grupo Santillana S.A. 2008, second edition 2011

TORBELLINO

Whirlwind (Torbellino)

This picture book tells the story of Torbellino, an old horse who stops whisking his tail forever and how his owner, Jacinta, learns to accept his death, treating a difficult theme with tenderness and sensitivity.

Bogotá Colombia. Printed by Comecuentos Project Grupo Santillana S.A 2005

Quito Ecuador: Printed by Alfaguara Infantil, Grupo Santillana S.A. 2001, second edition 2002, third edition 2003, fourth edition 2004 third edition 2005, fourth edition 2010

…Y SU CORAZÓN ESCAPÓ PARA CONVERTIRSE EN PÁJARO

…And his Heart Escaped to Become a Bird (Y su corazón escapó para convertirse en pájaro)

A collection of fourteen stories about Afro-Ecuadorians from the 16th Century to the present, this book is based on meticulous historical and cultural research. Its stories use a language that captivates all types of readers while portraying accurately the struggles of the Afro-Ecuadorians to obtain their freedom and conserve their culture. The book is used regularly in many Ecuadorian schools and the Ministry of Education of Mexico selected it for use in Mexican schools. In 2001, the book was awarded the Ecuadorian National Prize for Children's Literature.

Quito Ecuador.
Alfaguara Juvenil, Grupo Santillana S.A. 2001, second edition 2002, third edition 2003, fourth edition 2004, fifth edition 2005, sixth edition 2006, seventh edition 2008, eighth edition 2009, ninth edition 2010, eleventh edition 2011

Mexico D.F. Mexico.
SEP(Ministry of Public Education)/Aguilar, Altea, Taurus, Alfaguara del Grupo Santillana S.A. 2003

México D.F. Mexico.
Alfaguara Juvenil, Grupo Santillana S.A. 2005, second edition 2005, third edition 2007, fourth edition 2008, fifth edition 2009, sixth edition 2010

VERDE FUE MI SELVA

Green Was My Forest (Verde fue mi selva)

The principal characters of this book of fourteen short stories are boys and girls from the six indigenous cultures of the Amazon region of Ecuador. Through their adventures, the stories convey the characteristics of these cultures and the rainforest environment in which they evolved. The book is widely used in Ecuadorian schools and the Ministry of Education of Mexico selected it for use in Mexican schools. A panel of specialist convened by the publishing firm SM selected this book as one of the ten best books for children and adolescents written in Latin America during the 20thCentury.

Bogotá Colombia. Printed by Alfaguara Infantil, Grupo Santillana S.A. 2011

Quito Ecuador. Printed by Alfaguara Infantil, Grupo Santillana S.A. 1998, second edition 2001, third edition 2002, fourth edition 2003, fifth edition 2004, six edition 2005, seventh edition 2006, eighth edition 2007, ninth edition 2008, tenth edition 2009, eleventh edition 2010, twelfth edition 2011

México D.F. Mexico. Printed by SEP(Ministry of Public Education)/Aguilar, Altea, Taurus, Alfaguara, primera impresión 2005.

México D.F. Mexico. Printed by Alfaguara Infantil, Grupo Santillana S.A. 2006, second edition 2006, third edition 2009, fourth edition 2010

Madrid Spain. Printed by Alfaguara Infantil, Grupo Santillana S.A. 2004

SER Y COMPARTIR

To Be and to Share (Ser y Compartir)

Sixty humorous stories in three volumes that, with humor and originality, tell children about values.

Quito Ecuador. Printed by Ministry of Education/UNICEF 1995

Quito Ecuador. Printed by Editorial Libresa/UNICEF 1998, second and third editions 1999, fourth and fifth edition 2000, six and seven editions 2001, ninth edition 2002, tenth edition 2005, eleventh edition 2007, twelfth edition 2008, thirteen edition 2009

UN DÍA MÁS Y OTRAS HISTORIAS

Give Me One More Day (Un día más… y otras historias)

Ten stories about the animals in danger of extinction that inhabit the South American continent. This book invites you to learn the song of the mountain, to travel with Tatu, the giant armadillo, to swim through the sea with Chac-Chac, the green turtle, to hear the warnings of a tiny hummingbird about the terrible Mister Smog, and to share with a mother monkey her hope to live one more day.

Quito Ecuador. Printed by Alfaguara Infantil, Grupo Santillana S.A. 2004, second edition 2005, third edition 2006, fourth edition 2007, fifth edition 2008, six and seventh editions 2009, eighth edition 2010, ninth edition 2010

Quito Ecuador. First printed by Editorial Ecuador 1997, second edition 1999, and third edition 2000.

AVENTURA EN LOS LLANGANATES

Adventure in the Llanganates (Aventura en los Llanganates)

Due to a strange coincidence, a group of intrepid friends, accompanied by their loyal dog, decide to go in search of the Sacred City of the Llaganates where they suspect the treasure of the Inca Atahualpa is hidden. During their adventure in the mysterious mountains and mysterious caves, they survive emotional and dangerous situations and discover secrets that have been hidden for centuries. This chapter book is considered a classic of Ecuadorian children's literature.

Quito Ecuador. Printed by Grupo Editorial Norma Infantil, 2003, second edition 2004, third edition 2005, fourth, fifth and sixth edition 2006, seventh and eighth editions 2007, ninth edition 2008, tenth edition 2009, eleventh edition and twelfth edition 2010